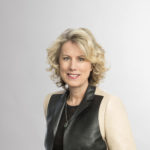 Dawn Farrell is the President and Chief Executive Officer of TransAlta.
Dawn has over 35 years of experience in the electricity industry, with roles at TransAlta and BC Hydro. Before serving as Chief Executive Officer, Dawn held various leadership positions at TransAlta and between 2003 – 2007 worked at BC Hydro leading the company's generation business.
Dawn sits on the board of directors of The Chemours Company, a NYSE-listed chemical company and the Business Council of Alberta. She is also a member of the Trilateral Commission and the Business Council of Canada. In July 2020, Dawn was named the first Chancellor of Mount Royal University.
Dawn holds a Bachelor of Commerce with a major in Finance and a Masters degree in Economics from the University of Calgary. She has also attended the Advanced Management Program at Harvard University.